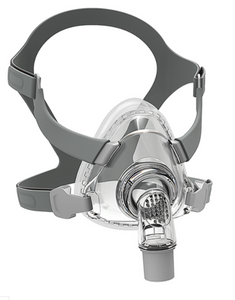 Full Face Mask - MOST POPULAR - tempur pedic cushioning feels good on face
A full face mask works better than a nasal mask for most people because many people have nasal congestion or they are mouth breathers. Nasal masks do not work for mouth breathers because your mouth must be closed all night for a nasal mask to work. A full face mask works best for most people because it covers both the nose and the mouth. 
Description: This is our most popular full face mask that is working the best for most people.  This mask has tempur pedic cushioning that feels very good on the face.
Condition: Brand New
Choose your size.  Our most popular size is Large because large men with big heads are our most popular customers.  If you are a skinny man with a head that is not large, then Medium size may work best for you.  If you are female, the small or medium size may work best for you.
The mas you receive may look different than the mask in the picture but will have the same functionality as described in the description.