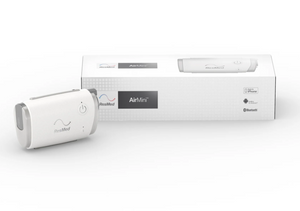 Resmed Airmini - Travel CPAP Machine Small Portable
The Airmini is the smallest travel CPAP machine on the market.  An alternative travel CPAP machine you may want to consider is the Dreamstation 2.  See our machine section.
Condition: Open box
Included:  All the items that come inside a new box - the machine, power cord, instructions, original box etc.  The people we bought this machine from opened the box and decided they did not want it.  Nothing inside the box has been removed and all items will be untouched and unused and in new condition.
Not included: You will need your own mask - see our mask section.  Also, you will need the Airmini hose and the Airmini mask adapter which you can find on other places on the web. There is a different adapter for each mask type.  The Airmini is the only CPAP machine that requires this specific hose and adapter.  If you would like help finding the hose and adapter, then please go to 'Contact Us' at the top of our website and send us an email and we will show you where you can find it.